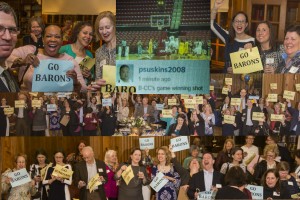 More than 100 people attended the B-CC High School Educational Foundation's annual "Evening of Wine, Chocolate & Cheese" on March 12, a community event celebrating the Foundation's 20-year history of supporting the students and staff at B-CC, and thanking all the donors who have made – and continue to make – it all possible.
The B-CC community demonstrated an enormous show of support for the event, which was on the same night as the boys' basketball team's state semifinal game, with a surge in online donations in response to the Foundation's fundraising campaign that evening. Thanks to the overwhelming generosity of its donors, the Foundation was able to meet its goal. The money raised will go toward funding the Foundation's Campaign for Academic Excellence at B-CC.
At the event, following presentations of citations honoring the Foundation's 20th anniversary from U.S. Rep. Chris Van Hollen and Montgomery County Council member Roger Berliner, Foundation President Matt Gandal and Assistant Principal Marjorie Lope spoke about the importance of the Foundation to the school.
Please check out the video B-CC High School Educational Foundation – 20th Anniversary, shot by Michael Pollak of C2C Media Group, as well as the photos, taken by Bill Mills, B-CC Class of 1958, for highlights of the event.