February 5, 2012
Sixth Annual Community Fundraiser Wine Tasting on March 8th!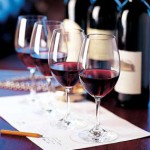 Please join us for the Sixth Annual Community Fundraiser for the Bethesda-Chevy Chase High School Educational Foundation honoring:
CollegeTracks, a B-CC HS Educational Foundation Signature Program, and its founders Cathie Goltz, Nancy Leopold and Nancy Zeller
"Wine Tasting: An International Sampling" with "heavy" hors d'oeuvres
Thursday, March 8, 2012, 7–9 pm Woman's Club of Chevy Chase 7931 Connecticut Avenue, Chevy Chase, Maryland
RSVP by Sunday, March 4th Tickets: $50 per person (estimated ticket value $30)
To buy tickets or make a tax-deductible donation online, click here. If you prefer to print and mail your RSVP, A copy of the invitation is also available online.