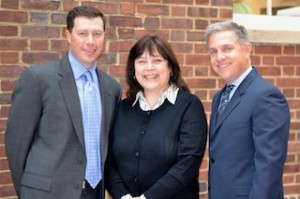 The Bethesda-Chevy Chase High School Educational Foundation recently received a $20,000 gift from The Chevy Chase Land Company.
"We are very pleased to be able to support the Foundation because the students at B-CC are our next generation of leaders and we are happy to help contribute to their success," said David M. Smith, president of The Chevy Chase Land Company.  "The passion for learning and skills they acquire in high school will help to shape our future as a community."
The Chevy Chase Land Company is a commercial and residential property management and development company with a long history in Montgomery County, Maryland.  The Land Company is a small, family-owned business whose roots in Chevy Chase go back to 1890 when Senator Francis Newlands founded the company.
"Through their generous gift, the leaders of The Chevy Chase Land Company have demonstrated that they recognize the critical role an exceptional public high school plays in making our community a great place to live and work," said Matthew Gandal, president of the Foundation.  "Gifts such as these from our local business leaders help to strengthen the bonds between our high school and the greater community, providing hundreds of students with the additional resources they need to ensure academic success."