The Foundation, CollegeTracks & You: Investing in tomorrow's heroes.
The B-CC HS Educational Foundation supports B-CC's low-income, first generation-to-college students by funding the CollegeTracks program. With the COVID-19 crisis, our 124 B-CC CollegeTracks 2020 grads are navigating a much more complicated college transition. But with your gifts, CollegeTracks quickly pivoted to a virtual model – ensuring our students are still getting critical support to complete applications, secure financial aid, and prepare for college this fall.
Meet Eleany Yassein: B-CC Class of 2013, CollegeTracks alum, local hero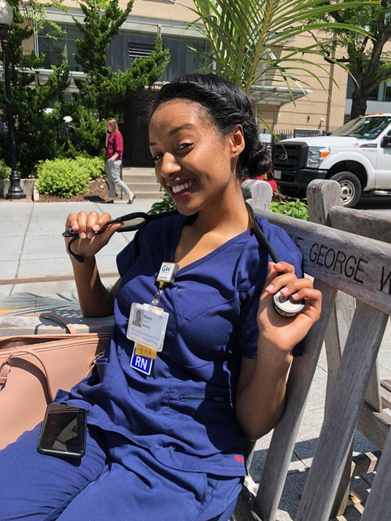 Eleany graduated from UMBC's School of Nursing in 2018. Along with many B-CC CollegeTracks alumni, Eleany is a brave healthcare worker in this pandemic.
"I work at George Washington University Hospital, as a Registered Nurse. It's more stressful [during COVID-19] because we don't have enough PPE. One of the things I'm still struggling with is the fact that we have to reuse masks. Because of that, I'm scared for my own health, as well as my patients.' … It makes it challenging for me to do what I love. My passion for the field and support from friends and family has been helping me get through this tough time."
Students like Eleany are why education is a critical investment.
With your gifts to the Foundation, we fund programs like CollegeTracks – supporting B-CC students who, in turn, serve our community.
Please make your year-end, tax-deductible gift today to ensure every B-CC Baron is prepared to thrive.